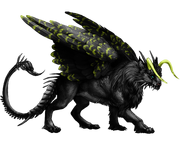 The marking of Snow Owl can be found in the White Rose. It was released November 27, 2011.
It can be considered a small marking, since it does not take up as much space as Hawk's Wing, and should not be confused with Hawk's Wing. Not only is there less feather coverage with Snow Owl, the horns on the Iuridon are colored as well, whereas the Hawk's Wing leaves the horns uncolored.
Ad blocker interference detected!
Wikia is a free-to-use site that makes money from advertising. We have a modified experience for viewers using ad blockers

Wikia is not accessible if you've made further modifications. Remove the custom ad blocker rule(s) and the page will load as expected.