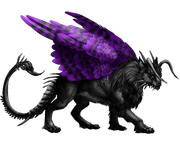 Hawk's wing can be found on the item Jakli bird, the bird can be found in the Tundra area and is a R-100 item. It was released with the
Blood splatter marking
.
The Hawk's wing could be considered a large marking, since it takes up the entire wing on the feli it's on, it's characterized by the full wing covering. Including wing tips with stripes on the feathers.
Ad blocker interference detected!
Wikia is a free-to-use site that makes money from advertising. We have a modified experience for viewers using ad blockers

Wikia is not accessible if you've made further modifications. Remove the custom ad blocker rule(s) and the page will load as expected.