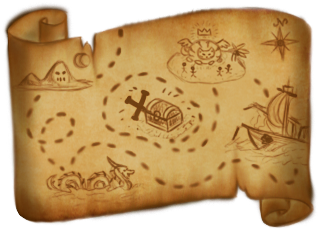 Lost Island
Edit
The Lost Island is part of the Felisfire World. It was introduced in Fall of 2016 for users. To access the Lost Island, users would have to collect map pieces, of which there are 12.  To obtain map pieces, users would have to purchase a Rabbit's foot, which would give you 3 of the map pieces. If you had duplicates, you could trade with other users to get the missing pieces you needed. After you collected all of the pieces, they would form a map, which unlocked the Lost Island. For Pirate Week 2017, the Rabbit's Foot can be gathered in the Field, and turned in to the shady pirate to gain map pieces. The Rabbit's Foot and the Shady Pirate will only be avalible during Pirate Week.
The Lost Island would allow users to visit once a day to try their luck at getting exclusive patches, minipets, or even Super Orbs, plus a few sets of contacts.
|  Items | |
| --- | --- |
| Mascara Brush | |
| Toxic Butterfly Wing | |
| Theatre Mask | |
| Grimlitty | |
| Larry | |
| Terreth | |
| Zirin | |
| Super Orb | |
Ad blocker interference detected!
Wikia is a free-to-use site that makes money from advertising. We have a modified experience for viewers using ad blockers

Wikia is not accessible if you've made further modifications. Remove the custom ad blocker rule(s) and the page will load as expected.