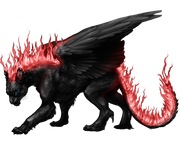 Accents is an egg marking that was added shortly after the release of the Igneo on September 1, 2011 . Many users noticed that there where no marking that covered the flames on the Igneo and so this marking was designed to color the flames. Accents is similar to Skunk on some species but it's more detailed.
Ad blocker interference detected!
Wikia is a free-to-use site that makes money from advertising. We have a modified experience for viewers using ad blockers

Wikia is not accessible if you've made further modifications. Remove the custom ad blocker rule(s) and the page will load as expected.